Tubular piles are tubular pipes used for piling purposes,which are also called steel piles,piping tubes,or tubular piling. Steel piles are the main retaining elements of the combined wall, carrying horizontal loads from soil and water pressures and vertical foundation loads.
Spiral welded pipe is made by rolling a low-carbon carbon structural steel or a low-alloy structural steel strip into a tube blank at a certain spiral angle, then welding the pipe seam. Larger diameter steel tubes can be produced from narrower strips. Its advantages are shown as followed:
1. Steel tubes of different diameters can be produced using strips of the same width, and narrow strips can be used to produce large diameter steel tubes.
2. Under the same pressure condition, the stress of the spiral weld is less than that of the straight seam, which is 75% to 90% of the straight seam welded pipe, so it can withstand large pressure. Compared with the straight seam welded pipe with the same outer diameter, the wall thickness can be reduced by 10% to 25% under the same pressure.
3. The dimensions are accurate. Generally, the diameter tolerance does not exceed 0.12%, the deflection is less than 1/2000, and the ellipse is less than 1%.
4. Continuous production can be carried out, which can increase the metal utilization rate by 6% -8%.
5. Compared with the straight seam welded pipe, it is flexible in operation and easy to change and adjust.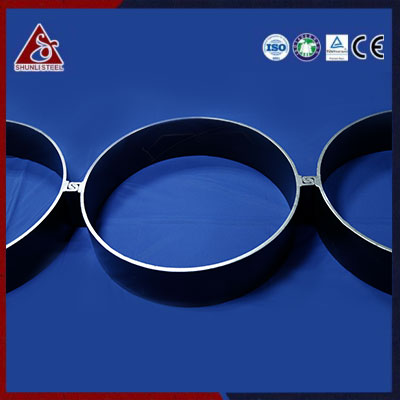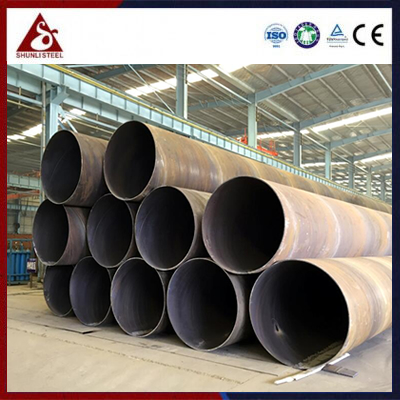 Pipe with Interlocks
An interlocked pipe pile means pipe with a certain clutch or interlock to connect with each other, or connect with sheet piles to form a combined wall. For the interlock, we could provide both hot-rolled SLZC9 interlocks and cold-rolled interlocks. The hot-rolled interlock could only be used to connect with hot-rolled sheet piles, while cold-rolled interlocks could only connect with cold-rolled interlocks. Other form of interlocking system is available on buyer's request.
We have been equipped with three sets of SAWH/SSAW Pipe Piling production lines for φ219~φ3200mm, with an annual production capacity of 200,000 tons. The products are widely used in piling, bridge and steel structure related industries.
All the production lines are equipped with on-line UT machine. Manual UT, MT, RT and hydrostatic test are all available upon clients' request.
Pile shoes, shearing rings and pipe coating are all available in our mill.
Standard: ISO14001, ISO9001, CE, CE-EN1090, FPC, Cold-forming First Level
Material: Q235B, Q345B, S235, S240, SY295, S355, S430, S460, A690, ASTM A572 Grade 50, ASTM A572 Grade 60. All Chinese Standard, EN Standard, ASTM Standard and other standard material are available on request.
Global Projects:
2.Davao International Container Terminal,Philippines